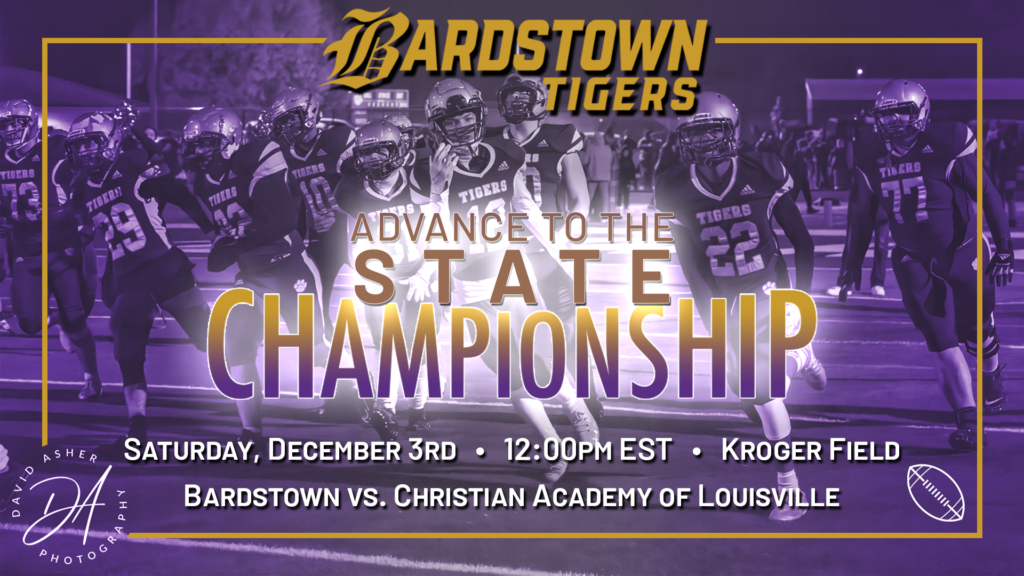 Join us in cheering on your Bardstown Tigers at the KHSAA 3A State Championship! Bardstown High School will be the visiting team and will be on the North Side (Cooper Drive). All seating on the visiting side is general admission. Tickets are only available online and through GoFan. Digital tickets are required as there will be no cash sales at the gate. Ticket prices are $15 each, plus any applicable credit card and convenience fees in advance of Wednesday, November 30th, after which each ticket is $20. Children 5 and under will be admitted free but must still "purchase" the free ticket through GoFan.
General Admission Ticket: https://gofan.co/app/events/712128?schoolId=KHSAA
Children 5 and Under Ticket: https://gofan.co/app/events/710299?schoolId=KHSAA
Game Details:
Bardstown High School vs. Christian Academy of Louisville
Saturday, December 3, 2022
Kickoff @ 12:00 PM
Kroger Field
Here's what Tiger fans need to know:
As per KHSAA and UK Athletics policy, guests are not permitted to exit and re-enter Kroger Field on the same ticket.
Umbrellas may be brought to the stadium but may not be opened in the seating areas.
Plan to use credit cards as no cash will be accepted.
No bags should be brought into the stadium unless compliant with the SEC's clear-bag requirement.
CLEAR BAG POLICY
As a reminder, the SEC's clear bag policy remains in place at Kroger Field for this event as an additional safety measure and to facilitate entry. Each fan will be permitted to carry one large clear bag – either a one-gallon Ziploc-style bag or a 12" x 6" x 12" clear bag – plus a small clutch that does not exceed 4.5" x 6.5". The small clutch allows privacy for small personal items and is also easily searched. The clear bag policy improves public safety by making bags easily searched and significantly reducing faulty bag searches. Any non-clear bags left unattended at the gates will be evaluated and disposed of.
PROHIBITED AND PERMITTED ITEMS
The following items are welcome inside:
Unopened bottle of water, smaller than one liter; personal chair backs (maximum width 18 inches); one bag per person, must be clear and not exceed 12 x 6 x 12, all bags are subject to search; small collapsible strollers that fit under a stadium seat (strollers are subject to search); camera lenses (maximum six (6) inches, no detachable lenses); service animals accompanied by guests with disabilities or a trainer.
The following items are NOT welcome inside:
Outside food and drinks, including alcoholic beverages; outside food and drink containers, including hard-shell koozies; all weapons, including firearms, carried either concealed or openly are prohibited items at UK's Kroger Field per KRS 237.115 (anyone in violation of this will not be granted entrance into Kroger Field); portable heaters & combustibles; glass, aluminum containers and ice chests; artificial noisemakers, irritants and laser pointers; all illegal substances, tobacco products and electronic cigarettes; large bags; pets; unmanned aircrafts; inflatables; poles, extensions or selfie sticks; backpacks; purses larger than a clutch that are not clear.
DIRECTIONS TO STADIUM
Address: 1540 University Drive, Lexington, Ky., 40506-0222
As the visiting team Bardstown Tigers seating will be on the North side of the stadium. The North side of the stadium is parallel to Cooper Drive, closest to downtown.
PARKING
Your digital ticket will serve as a parking pass to all of the general parking areas around the stadium.
Parking lots will open one-hour before kick-off of the first game each day. Gates 2,4 and 9 will be open.
WHEELCHAIR/ADA ACCOMMODATIONS
Accommodations will be made at the venue for persons in wheelchairs and those otherwise unable to utilize the traditional stadium seating.
TIGER FAN BEHAVIOR AND ACTIONS
Sportsmanship is expected from our athletes, students, and fans. The National High School Federation and The Kentucky High School Athletic Association require officials to enforce sportsmanship rules. Athletics must emphasize positive values. All of us have worked hard to create a sense of teamwork, respect, responsibility and perspective. We remind you that your behavior represents our school community. We encourage and appreciate your help in representing the Bardstown Tigers in a positive manner. Here's a few things you can do:
Fans, including parents, stay in the stands before, during and after the game.
Our student-athletes are fortunate to play in this collegiate facility. Just as we take pride in the appearance of our very own Tiger Stadium we must also be caretakers of Kroger Field. No matter how exciting the game becomes, please leave the stadium as it was when you arrived. Our school district will be financially liable for damage to any part of the stadium.
Let's join together in Good Sportsmanship to make this a memorable event for our young people.